Travel Courses/Tours
Balinese Rites of Passage: from Birth to the Great Departure
A Cultural, Spiritual, and Personal Healing Journey in Bali ~ 2023.
In this two-week tour, we will explore both inner and outer landscapes as we delve into the Balinese spiritual and cultural practices (rites of passage) that are seamlessly woven into the fabric of daily life.
Under Surya and Judy's expert guidance, we will be welcomed into temples and the homes/studios of artists and healers. Under Alexandra's gentle guidance, we will take time each day to deepen and integrate our experiences in this rich, soulful culture through group discussions, guided meditation/exercises, dreamwork, journal writing and periods of silence.
The mythological, spiritual and ancestral environment of Bali can stimulate deep psychological insights, transformation and healing. It is our intention to return home with a renewed faith in humanity and more capacity to fully embrace this wondrous life—with all its passages, including the Great Departure.
---
DYING, GRIEVING AND LIVING IN BALI: A SOCIAL AND CULTURAL EXPLORATION
with Alexandra Kennedy & I Made Suryasa ~ Aug. 18-30, 2018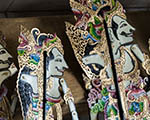 Bali is only one of more than 17,000 islands in Indonesia – the fourth most populous nation in the world. But this island, currently enjoying an artistic renaissance, must be one of the world's loveliest. It is rich in dramatic scenery, ancient temples, and graceful people. An immense nation covering a total land area of 741,000 square miles, Indonesia is still growing. One-fourth of its 400 volcanoes are still active, changing the country's contours to new scenes spectacular in their contrasts.
Bali remains one of the few places in the world where the traveler can explore and discover untouched places and witness religious rituals that have not diminished with the passing of time. Every back road is a gateway to the heart of the Balinese people.
In this two-week sojourn, we will be exploring how the Balinese culture embraces dying ("The Great Departure"), grieving and living in their rites of passage. There will be talks on birth ceremonies, the two stages of the cremation ritual (Ngban/Palebon– which is essentially returning the five elements back to Nature) and deitification of the ancestor (Mamukur/Ngeroras).
We will take time each day to deepen and integrate our experiences in this rich, soulful culture through group discussions, meditation, dreamwork, periods of silence, journal writing, and guided meditations/exercises. It is our intention to return home with a more spacious relationship to death/dying and grieving—and as a result more capacity to embrace this wondrous life more fully
For the tour's itinerary and details about the tour, see the Danutours website:
http://danutours.com/travel/listing/dying-grieving-and-living-in-bali-a-social-and-cultural-exploration-with-alexandra-kennedy-i-made-suryasa/
Contact
Capitola, CA 95010 USA 24/7
Customer Support 831-476-0543 danu@earthlink.net
---
"In The Footsteps Of St. Francis"
12 day tour in Italy 1996
Presented through University of California Santa Cruz Extension
Planning Your Trip To Tuscany And Umbria
Get to know the rolling hills, walled medieval towns, abundant art, food and wine of the region surrounding towns such as Florence, Spoleto, Siena and Orvieto. From the Renaissance to the present day, this region has balanced rural simplicity with high culture. Experience the landscape that looks much the same as it did in the works of Fillipo Lippi or Piero della Francesca the charm of a lifestyle that maintains a civilized simplicity.
The course will emphasize planning your stay to balance the viewing cultural icons with a sense of daily life. We'll use slides, stories and discussion to acquaint you with intriguing small towns, interesting restaurants, local cuisine, special niches in churches, and particular rooms in museums. In addition, we will discuss renting a villa in the countryside, the tradition of the [passagiata] and ways to use cafes and bars.
You will be given background reading and contacts for further research. Whether you're ready to travel this summer or are just interested in Italian culture, you will find this day stimulating and fun.
Alexandra and Jon Kennedy have traveled to Tuscany and Umbria many times. They consider Assisi their "home away from home," and enjoy sharing their experiences of Italian culture.

Presented at University of California Santa Cruz Extension.