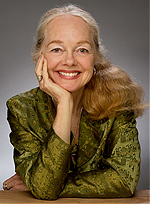 I have been a psychotherapist for over 45 years. During that time I have helped clients with a wide range of issues. I offer a highly personalized approach tailored to each client's individual needs; my clients and I work together to address their goals and concerns, whether current life challenges or long standing issues.
The time will come when with elation You will greet yourself arriving At your own door, in your own mirror, And each will smile at the other's welcome. —Derek Walcott
I specialize in working with grief. Over a lifetime we will experience many losses—not just the loss of loved ones but the loss of a marriage, health, a job, our dreams, or a child when he or she goes off to college. Each one of us will be called on at different times to face loss—but will we embrace it or shrink from it? Most of us shrink from loss, thinking that if we just keep busy we can close our hearts a little to protect ourselves from loss. However, it is ungrieved loss that takes a toll on our hearts and deadens us to life. We pay a price in terms of our vitality, happiness and health. I offer unique and effective strategies for grieving fully without feeling overwhelmed—this includes experiential exercises for exploring the ongoing inner relationship with a deceased loved one.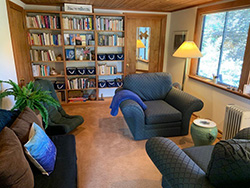 My work as therapist is to create a safe, supportive space for clients to open up, experience life as it is right now, and explore whatever is calling out for attention. Often we may need to make detours into past traumas that prevent a full surrender into the present. As old grief, traumas, hurts, and losses are embraced and healed, inevitably clients drop into the deepest grief of all—the abandonment of oneself. As this is addressed and grieved, then the unique expression of the essence of that person can be freed up to participate fully in life, to blossom like a flower. As French author Anais Nin wrote: "The day will come when the risk to remain tight in a bud was more painful than the risk it took to blossom."
Deep within each one of us is a vast intelligence that moves us toward wholeness. I am continually in awe of how effectively this guides the healing and awakening process—once we learn how to listen to the dreams, feelings, body sensations, and life challenges that give clues as to where the healing wants to go next. This work is empowering to my clients as they connect with a flow of healing and transformation from within themselves and learn new tools for living more fully—tools that they can carry into their lives long after our time together has passed.
I have a Master's degree in Counseling Psychology from the University of Santa Clara and a license in the state of California (since 1976) as a Marriage and Family Therapist. The author of three books on grief: Honoring Grief, Losing a Parent and The Infinite Thread: Healing Relationships Beyond Loss. I have taught at University of California Extension, Santa Cruz, the Institute of Transpersonal Psychology, and John F Kennedy University.
I have trained in grief work with Stephen Levine, family therapy with Virginia Satir and John Krop, art therapy with Janie Rhyne, dream work with James Hillman, Alice Howell and Charles Ponce, women's sexuality with Lonnie Barbach, and Bioenergetics with Michael Conant and others at the Northern California Bioenergetic Institute.
My 45-year meditation practice (mostly Buddhist) has enriched and deepened my approach to psychotherapy; this has enabled me to bring compassion, humor, patience, spaciousness and balance into the therapeutic relationship. My teachers include Stephen Levine, Jack Kornfield, Goenka, Ruth Denison, among many others.
I consider it an honor and a privilege to work with clients in this journey of healing, transformation and self-discovery. What rich resources for coming into our wholeness lie within each one of us—just waiting to be tapped!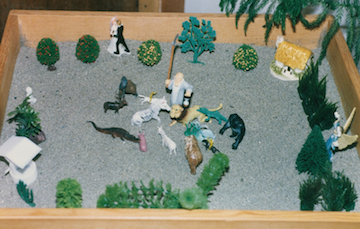 Every part of you has a secret language. Your hands and feet say what you've done. And every need brings in what's needed. Pain bears its cure like a child. Having nothing produces provisions. Ask a difficult question and the marvelous answer appears.
—Rumi
I also offer Sand-play therapy, a therapeutic modality for children (and adults) that was developed by Jungian analyst Dora Kalff. This therapy establishes a safe and protected space to create a world in a sand box using various miniature objects that the child chooses from a wide collection. This experience is deeply healing and allows the client to express feelings and concerns that often cannot be expressed in words.